Hi Guys,
Just wanted to say thank you to your guys today, especially to Suli, it was my 13 year old daughter Coco's first ever open water dive and Suli was so good with her. She was very nervous and he made her feel so chilled. Thank You again, Vinaka and we will see you again next year when we return for some more diving memories.
April 2023
---
Bula,
Big thank you from Warren and Ben for today. Moses and Bill were excellent. Moses did a  great job explaining to Ben the issue of going to deep for too long and having to have a5 plus 3 minutes safe stop. I really appreciated it.
Kind regards,
Warren and Ben
Apr 2023
---
Hi Sarah
We had an amazing couple of days with Bill. We really enjoyed diving with you. Thanks again for your help.
Joey
Mar 2023
---
Hi
Firstly I just wanted to say we recently did discover scuba dives through Plantation with Lote and Dels with our 2 kids and they were awesome. I wanted to send them a huge thank you for being so mindful and supportive on their first experiences. Lite was especially awesome with our 10 year old daughter who wasn't so confident and had issues equalising.
We are keen to come back soon and do our open water certs.
Thanks
Jo
Feb 2023
---
Bula guys,
I just wanted to quickly thank you all there for a great time while I was back at Lomani Resort for 2 weeks in May. I attained my Open Water certification while I was there and wanted to thank Dan for the exceptional professionalism he showed during his training for my certification and he also made it quite fun.
Dan at every stage knew when we had to go over skills again and in the open water knew all of the reef we went to so he was able to show me some great reefs. I also would like to thank Fabi. He is an absolute laugh and those two go hand in hand as a good laugh on the dive boat was on every trip. I had 5 dives while I was there, 4 being certification and one recreational and I had an absolute blast! My last dive with Dels as the dive master was also great so you have yourselves a very good professional dive team there.
The staff in general from the dive shop at Plantation to the dive boat captains all were just what I would expect from a  professional company with safety at its core and of course the usual happy Fijian spirit.
Anyway guys just wanted to say thanks and I've already recommended your services to another two people I work with so I hope they go diving when they next visit.
By the way Dan nice photo on the subsurface page! LOL!
Vinaka, Michael Howard (Gold Coast, Queensland)
June 2013
---
Hi Subsurface,
I wanted to express our gratitude for the wonderful time we had diving with Subsurface in Fiji recently.  Our 10 year old daughter did her Open Water Certification with your instructor Julius Tiuhea (OWSI-299116), and our 8 year old did the Bubble Maker course with Dan at Plantation Island Resort.  They made the entire experience, and holiday unforgettable.  Julius was extremely patient and diligent throughout the week.  It was reassuring to have such a caring person looking after Claire, for her first diving course.   In fact all of the Subsurface team at the Plantation Island Resort office were wonderful, and very helpful all week.  Nothing was too much trouble for the team.
We would highly recommend Subsurface to anyone, and we thank you for the experiences we had in Fiji.  We hope to join you again for some more diving in the future.
Many thanks, and kind regards.
Tara  May 2013
---
THANK YOU for the fun and hospitality of your crew during our visit to Fiji.  The diving and parasailing made our holiday really exciting and a standout for great memories.  All of the crew at Subsurface were great hosts and we enjoyed some of our best diving ever.  We recommend your company as going the extra mile with guests, and taking care of safety, along with making the experiences fun.
Best wishes
Sue and Richard, June 2012
---
Hello. I would like to take the opportunity to compliment you and particularly your instructor Api for the excellent time that we had diving recently at the Malolo Island resort. Api worked with my two eldest children, Daniel and Tom to get them their licences. He was a wonderful teacher and the kids really took to him.
Regards
Tracy Shannon January 2012
---
Hi there,
Just wanted to say a huge THANK YOU for the fantastic staff members of Subsurface Fiji at Beachcomber Island! I had an AWESOME time with the crew and really enjoyed my dives!!. I will be back. BULA!!!
Cheers,
Marja March 2012
---
Bula-
A quick note to compliment your dive staff while I stayed on Malolo Island from 6/23/12 – 6/30/12.
The dive staff were very friendly, professional at all times, were accommodating to our group's needs, and great fun to be around. It makes a dive trip much more memorable when your staff is as friendly as yours. It was so nice to have them change our tanks between dives (hard to find these days), adapt to our group size on a daily basis, and be flexible with dive site schedules we requested – like when we wanted to dive Pinnacles and Wilke's Passage twice in 4 days. Diving was fun too – they pointed out the big and small sea life, and demonstrated a passion to teach and show respect for the ocean. I would recommend your operation to anyone who wants to dive Fiji. Wishes for continued success.
See you next time!
Vinaka-
Robin June 2012
---
Dear Karen,
My husband and I were recently at Malolo island Fiji and did 12 dives through your company, Subsurface Diving. We also did our course with you at this same venue in April of 2011.
I wanted to write to say how lovely Manu and Dels were. Manu I believe has been there for some time now and is a real asset to your company. Dels was a wonderful dive instructor, as was Gabby and Julies. I just wanted to write and say thank you and also give my thanks to Manu and Dels.
Regards,
Rebecca June 2012
Our diving experience with Solo was great!! – Jade. Dec 2022
---
Thanks for such a great experience diving with yourselves, the instruction and organization was awesome. Big thanks to Solo for his great tuition. – Grace. Dec 2022
---
Had an incredible 4 dives with the Subsurface Team out of Musket Cove Resort and Malolo Island Resort. Equipment was well maintained and staff attentive. All 4 dives were fantastic, but the Supermarket dive site was my favourite – so many sharks! Book with these guys you won't be disappointed! Vinaka Sarah, Carl and the entire dive team! You guys rock! – Robyn. Dec 2022
---
Hey Sarah,
Just thought i'd touch base to let you know I had a great experience with my dive with Subsurface.  Friendly team on the boat and a great fun dive, even got to see my first turtle underwater.  Now that i've brushed off the cobwebs I'll try to get a few more dives in!
Cheers
Shannon
Nov 2022
I booked a 5 Day -10 dives plus an extra night dive, I am a beginner since I only got my certification right before this trip. I loved the way these dives are done,
very chill, very fiji style and doing 10 dives I got to see so much and swim a lot. I Always felt looked after
but there was always freedom for me to swim around and enjoy the tropical waters of Fiji.
I also got to practise and learn a lot to master my skills.
any question I had was answered and the divemaster went above and beyond to look after everyone on the boat.
We got to see plenty of fish, coral, sea turtles, sharks, stingrays and even dolphins on the surface.
Round of applause to Dels that look after me and Sam on every dive 👏👏👏👏🐢🐟🐠🐡🦑🌴
Jordan Tapia Calderón.
Dec 2022
---
Bula Karen,
Back home safely now after a wonderful trip. I would just like to say that Dan on Malolo was a fabulous instructor and both myself and my wife had a great time learning to dive with him.
I will highly recommend Subsurface Fiji to anyone I hear that wants to dive in Fiji. Please pass on our many thanks to Dan.
Best Regards
Scuba Steve and Scuba Sooz October 2011
---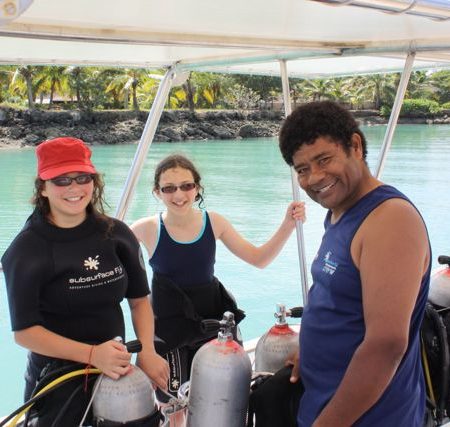 Bula, The girls had a wonderful time getting their PADI Open Water dive certification. Vinaka to Api, their amazing dive master / instructor.
Rhonda and Jeff, August 2011
---
Bula Karen,
Thanks again to you and Api for a wonderful experience. We will definitely
see you again next time we are in Fiji. Fletcher and I look forward to keeping in touch with you all. You and everything Fijian have a special place in our hearts.
Frederic Hemming July 2011
---
Hello Karen!
We had some guests, Steve and Kathy, who went diving yesterday and today. They had such a wonderful time and wanted to pass this on. Steve and Kathy spoke very highly of the instructor, as well as the dive sites they visited.
Vinaka vakalevu. We have been receiving very positive feedback about the whole diving experience and this is a credit to Subsurface.
Simone. Resort Manager, Navini Island
---
Hi Tony,
Just a quick note to thank you so much for the great time I had diving in Fiji a couple of weeks ago. I had an absolutely wonderful time completing my open water course with the Subsurface dive team.
I'd especially like to thank Rai and Eiji for being excellent instructors and bringing humour to every situation. The course was a lot of fun and reefs were beautiful. I definitely recommend diving with Subsurface and all your fantastic staff to anyone and will be back to dive there again for sure!
Thanks again, it was fabulous!!
Sarah January 2011
---
Hi Karen,
Thank you for making our stay at Malolo so much fun.
The Jetsking was fantastic. The Diving amazing.
Lots to do, great activities & great diving.
We'll be back.
Vinaka, Jason and Jennie, January 2011
---
Bula!
A great big thank you. We had a fabulous time – the team was brilliant our special thanks to Kini,Jiuta,Solo and Damien – they made the experience all the better.
Best wishes
Sandra and Alan Birkensleigh December 2010
---
Bula,
A big thanks you to all you guys for looking after us during our stay at Musket Cove.Attached are some pictures taken on some of our dives.
Vinaka Best regards,
Adrian and Jenny November 2010
---
Hi Karen
I just wanted to send my appreciation to the team at Subsurface Mololo Island – Manu, Vanu and Damien who made my diving experience a very memorable one. I am especially appreciative to Manu for his extra efforts to ensure I was able to arrange my dives successfully. I feel very fortunate to have been able to dive in such incredible locations together with great company.
I highly recommend diving with Subsurface, as they went above and beyond what was required, and certainly exceeded my expectations.
With Sincere thanks,
Rick Kelly Nov 2010
---
Bula Karen,
We just came back from Plantation. We had a great time and really enjoy the diving. The staff was very friendly. Loved the small groups as well.
Please send our thanks to the guides and captains.
I took lots of underwater photos and, if you like, I can email the good ones to you. Thanks again for everything
Kind regards,
Marzia October 2011
Hi Sarah,
Hope you are well!
Can't believe it has been a month since we met on the beautiful Malolo island. Life does get busy, but I can always find peace when I refresh my memories back on those amazing dives I had with your team.
I want to say big thanks to the fantastic Subsurface team. It is a truly customer-oriented team with great teamwork, effective communication, and most importantly sincere caring for customers' all sorts of needs.
I remember Net took early notice of my fast oxygen consumption and accompany me until the last minute of my safety stop time. Dels showed intensive experience on ensure checking currents before we can dive into the water. He also has excellent caring nature when he knew I had an ear infection, he took extra care of me by slowing down the going down to the water process so my ears could take time to adjust to the pressure. Also, when we were under the water, Dels constantly checking not only regular matters like oxygen bar level but my ear conditions at different depths. There was also one day we encountered some unexpected currents during the safety stop. Dels held me firmly until I stabilized myself then he checked around to make sure every team member was safe and sound until we all made it to the surface.
10 tanks of diving may sound like a lot to do but I can't wait to do another 10, or 20 tanks with you guys again soon. I appreciate the amazing nature and marine life to open my eyes but I can't enjoy all of them without the strong support and thorough care from your team. I feel lucky and thankful. I am looking forward to diving with Subsurface Fiji again!
Warm regards,
Samuel
Nov 2022
---
Bula to everyone from Subsurface!
We had a great time diving with you and I'm so glad to have finished my certification. We hope our next visit will be sooner rather than later and we'll make sure to dive with all of you again soon. You are the best!
Thank you again,
Colleen and Jack Gilligan November 2010
---
Bula Subsurface Team,
I just wanted to let you know how was my trip to Fiji. It was great.
You helped me with all my questions and maid my trip easy and very relaxing. You have a great diving team, great equipment and all the rest needed for good dive trip.
Thank u so much.
Olga from USA August 2010
---
Bula Karen,
On behalf of Tourism Fiji, I would like to convey our heartfelt thanks to you and your awesome Subsurface Team at Treasure Island Resort for all your support and assistance whilst the FUN Asia Discovery Channel TV Crew were staying at the Resort.
We really appreciate your assistance with the coordination of the requested activities, thank you.
Vinaka Vakalevu,
Alisi June 2010
---
Dear Karen
I cannot thank your staff enough for all the assistance. I really appreciated the time Lionel took instructing my wife in her Scuba course and the assistance Rai gave me when I suffered a reverse block. Both were really helpful and very thoughtful, particularly Lionel. Again thank you very much for diving and making the trip work so well.
Paul and Susan August 2009
---
Hi Anita,
Just a short note to say thanks to everyone at Subsurface last week during our trip to Fiji. Carly and I had a great time at the Malolo resort and did some great dives out on the reefs. We will be back next winter to do it all again, I'm sure!
Lionel is a fantastic instructor and I was very happy to be able to complete my course without any dramas. Thanks Lionel.
All the best,
Andrew and Carly Jackman July 2009
---
Hello Karen,
We just wanted to thank you and your colleagues for the great experience we had in Fiji. We love it… you live in Paradise! We are going to be back!
Kind regards,
Valeria Tizeira May 2009
---
Bula Karen,
Thanks for your email. I not only completed the two specialities, I completed all the requirements for Master Scuba Diver!! Vinaka vaka levu to Api and Jiuta. They are asolutely the best group of Dive Masters I've ever dived with. We left Namotu and spent a week at Cousteau's resort near Savu Savu. The diving was incredible but the team was not nearly as much fun or as informative as Subsurface. We'll be back in late October.
Thanks,
Jan Kottke March 23, 2009
---
Hi Karen,
I just wanted to take this opportunity to let you know that I had a wonderful time diving in Fiji at Malolo Resort. Jiuta, Bill, and Kelli were very knowledgeable, friendly and professional. These guys went out of their way to accommodate my group. At one point Kelli took myself and my cousin (the new Bride) on a shore dive so that we could get underwater photos of my cousin in her wedding dress. Kelli was outstanding during this challenging process. Bill and Jiuta took us out most mornings and were great to dive with. I learned so much from them just by watching them underwater, it was like I was in another advanced class. I can truly say that my diving has improved 100% in the last week, which in turn has made me love diving even more. I owe all of this to the Subsurface Fiji Staff at Malolo Resort. The thing I liked most about Kelli, Jiuta, and Bill was their true passion for diving and their respect for the Ocean environment and the professional manner in which they conveyed this to the divers on their boat. Thank you for everything and please pass on my compliments to the Malolo Staff.
Michael Pennino
Huntington Beach, CA 92646
---
Hi Karen:
Thought I would drop you a note to let you know how much I enjoyed diving with your crew last week. Everyone so friendly and helpful.
Conditions were great, boats not crowded and overall a fantastic value.
I look forward to coming to Fiji again some day. It's quite a journey but worth the effort.
Thanks again, and give my regards to the crew.
Dan Baier March 2012