Use PADI eLearning and you can spend more of your vacation time having fun in our tropical waters and less time in the classroom.
Complete the academic work of selected PADI Dive courses online with PADI e-Learning. You can do this before you come on vacation you set the pace and decide when you want to study. Follow the links below to start your course today!

How does it work?
You simply follow the eLearning link and sign up with padi for the theory portion of your Open water diver course thru a secure online system and get unlimeted access to your electronic version of the PADI Open Water Diver Manual (course textbook).
Right away you can start your study and be on your way to become an Open Water diver. When finished, just print out your elearning record and bring it with you to show your scuba instructor.
You are not alone while completing the online elearning courses. We will get in touch with you to give you professional assistance; and you can contact us anytime during your studies.
What PADI Online courses can I take?
Open Water Diver Online (English, Spanish, German, Japanese, French, Italian and Dutch)
Scuba Tune-Up Online
Advanced Open Water Diver Online
Rescue Diver Online
Enriched Air Diver Online
Digital Underwater Photographer Online
Dive Theory Online
Divemaster Online
Instructor Development Online
Whether you want to take scuba lessons for beginners or you're ready to advance your scuba skills training, PADI eLearning is a convenient way to learn.
You can get started immediately with scuba knowledge development and work at your own pace using the PADI eLearning system.
PADI eLearning gives you
Learning at your own pace and on your own schedule.
No classroom time on your vacation
Get straight into the water upon arrival
Convenient online access to knowledge development course material for one year
Unrestricted access to an online version of the course you have signed up for.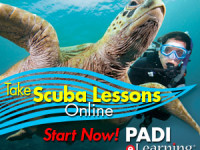 Frequently Asked Questions
Q. What age can I start?
A. The new minimum age for student divers enrolled in PADI eLearning courses is 10 years old (when PADI course prerequisites permit.)
Q. How does it work?
A. After enrolling, PADI's eLearning system presents you with interactive presentations that include videos, audio, graphics and reading. Short quizzes let you gauge your progress.
Q.What else is required to complete the course?
A. Five confined water dives and four open water training dives with your Subsurface PADI Instructor.
Q.What is the minimum amount of time it will take to complete this eLearning program?
A. The PADI Open Water Diver Course online will take approximately 12-15 hours to complete.